HireProWriter is the number one freelance writing company. We help many students looking for a professional writing service. We are a team of experts with vast experience in the tutoring profession and are equipped to provide TOP quality model essays that give students the edge in helping them make the grade on their papers.
Our reputation is stellar. We are best known for delivering our clients the most exceptional and well-organized premium writing online help, adhering to their guidelines, and delivering within the deadlines.
We believe that many poorly crafted essays have been produced because of a lack of preparation and confidence. Therefore, students with busy schedules can avoid the discomfort of writing by seeking our professional services. Essentially, our business model emulates the idea that a great academic writer listens closely to the client's needs. It is undoubtedly the most critical aspect of becoming a successful freelance writer. It also prevents the need for frequent rewrites when a paper does not meet the client's requested specifications.
If you're struggling with Proctored Exams, assignments, deadlines, presentation and a busy life? Kindly take up HireProWriter services. Not only can we write model papers, but we can also assist in all or part of your coursework, including model discussion postings, team projects, and more. It's easy! Just send us your syllabus and we'll get to work. Our Services include but are not limited to the following:
1️⃣   Essays
2️⃣   Quizzes
3️⃣   Research papers
4️⃣   Online classes
5️⃣   All other academic tasks.
We assure good grades, quality, originality, professionalism, and quick delivery.
The HireProWriter team is made of native seasoned experts and assures you better grades every time at ease throughout your academic journey.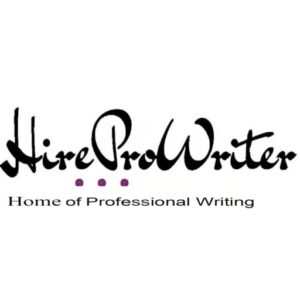 Mission
Our mission is to aid students learning by offering the best study guides and homework help and seamlessly easing studying for students with a busy work-study schedule to achieve greater societal good while continually improving our services as per the frequent recommendations we receive.
Vision
Hireprowriter's vision is to be the number one freelance writing company.